Math. Homework Submitter

What is it?
MHS (Math Homework Submitter) is an easy way to send math.
Homework to both: an email address and a webpage.
How to get it?
Signup for a Free MHS page and have your students submit their
Homework to you via email
What you will get upon Signup?
You will get your own page at our site:
mathyards.com/us/mhs/Your Name or Your school name
Your submitted Homework will be stored in:
mathyards.com/us/mhs/Your Name/pagetitle
The following is a sample email received by MHS: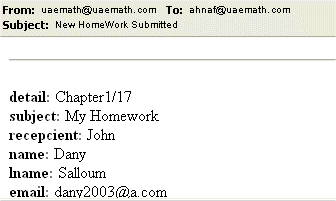 The following is a sample of stored Homework in a webpage by MHS: